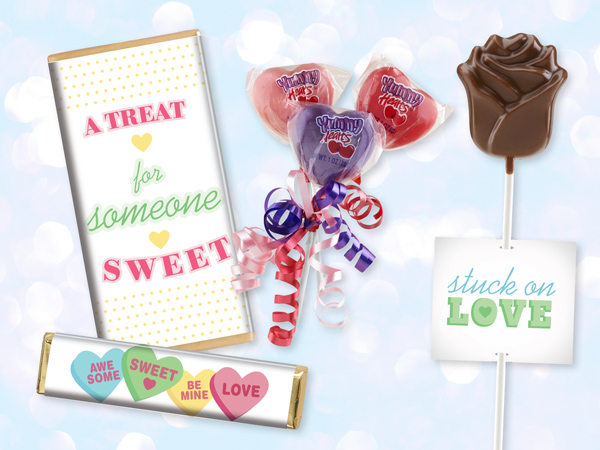 Valentine Candy Grams
If you were not thinking about doing a Valentine's fundraiser, think again! It is the PERFECT time to hold a fundraiser specifically catered for this time of year. Coordinating with the holiday makes your fundraiser on-point and can set you ahead of the rest. Specific fundraisers, which do best this time of year are chocolate bars, heart or lip-shaped lollipops, chocolate roses, and chocolate pretzel rods.
To further enhance your fundraiser, and profit, theme it up! Below we've assembled free download and print items to help your spread Valentine's cheer while showing you some profit love.
DISPLAY SIGNS
Kickstart your sales with direct and easy to read signs. Download, print and fill in your group on our fun Valentine signs for $1 and $2 items. Attach signs to tables, walls or even fundraising boxes to use as informative eye-catchers.
Download $1 Sign
Download $2 Sign
TAGS
Make chocolate roses, lollipops, pretzel rods and more into fun and cute candy grams with our free tags. Simply download, print, cut and attach to items with ribbons. Pre-attach tags to items or set them out in a display next to your treats for customers to select from themselves and fill out for a friend or sweetheart.
CANDY GRAMS
Get creative with your fundraiser and build more profit! Using a variety of chocolate roses and lollipops, select 2 or more items and wrap together with ribbon to create a delightful candy gram. Add up the selling price of each item you've included in your candy gram for the final selling price to your customer. Create bundles of 2, 3, 4 or more items for even more selling variety. Attaching festive ribbons help seal the sweet deal, and the addition of one of our downloadable tags is the finishing touch.
BAR WRAPS
Make delicious chocolate bars even more appealing with our free candy bar wraps. We have designs in both $1 and $2 varieties for you to download and print for free. Simply wrap our snazzy designs around your bar of choice, making them into fun valentine gifts. Stack the different bar designs next to your candy bars to allow customers to select their greeting. Leaving bars to wrap during or after making the sale will also help customers identify what flavor of chocolate bar they are purchasing (unless you are selling only one flavor of chocolate bar).
You can find all of the downloads in the blog post as well as on our tool page and all the products mentioned on our website. Have lots of love and fundraising creativity!!
—